Hello everyone and happy Thursday! I've been so excited to share these with everyone that I think we should just jump right in.
The first thing I have to share today is Imagine Knit's
Elsa Tunic
by designer Jamie Thomas. I think this is a relatively new pattern for us, I hadn't seen it before a couple of weeks ago and began pestering Sara to get it online (thanks Sara!).
I really love how versatile this could be, you could easily make it longer or shorter and color can go so far with this simple design. The yarn it calls for is
Habu Tsumugi Silk
(a yarn I've always been interested in) held double. Elsa takes at most 3 cones of the MC and 2 cones of the CC so even for the largest size this is still a less than $75 project. I wish I could find a picture of the back of this pattern, they use a ribbon for the neck ruching and it looks so beautiful tied in the back. I'd love to have this this little tunic for spring and summer, a shorter version would look great with jeans or dressed up for work, while a longer one would be a fantastic warm weather dress.
About a week ago I discovered Paris-based artist
Aurelie Mathigot
and I have been very anxiously awaiting sharing it with you.
These images are of her 2005 crochet installation "
My Bedroom
". I absolutely love the details, especialy on the dresser.
Gorgeous, just gorgeous.
On her
website
she says her work is "inspired by the notion of recovery and the necessity of talking about everyday life in another, new, way". She describes a few reoccurring themes in her work like "the will to hide, the need for isolation and for being overwhelmed by the textile material."
Of all of her work, this piece encompasses this idea best. "My Bedroom" was created during a 2 month stay in Rio De Janiero, and expresses "a quiet extravagancy" that came from her need for security in response to the "intense colors and violence" from the city.
These are two more of her pieces, on the left is part of her Food series and on the right is part of her installation "The Dinner". I wish I could find better pictures of this one, I think it is my favorite of her work. Just for fun here is one more of the food series (I love the lacy hamburger box top!):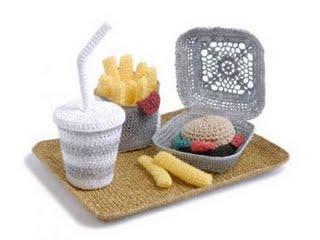 The last thing I have to share today is the work of
Melanie Porter
. I happened upon her website a few days ago, she worked for years as a knitwear designer and now restores and reupholsters old chairs completely by hand. Here are a few examples of her absolutely beautiful work:
This makes me really inspired to recover all the chairs in my house. It would be so fun (and quick!) in
Shibui Highland Wool Alpaca
. If these interest you as well I would recommend checking out her
website
to see these and more.
Hope you enjoyed these as much as I did! I'm already looking forward to what I have found for next week's post (just a hint: crocheted snow!). As always, check back then for another edition of Fashionknitsta. Until then, stay chic, blogfans!
-Lindsay