I hope everyone is having a great week! It's Thursday, and today I bring you another edition of Fashionknitsta. I have some really fun pieces I found this week to share with all of you - some knit, some not. And so, I will begin with the not.
I happened upon this really fun Etsy store,
Vilte
, that specializes in Nuno Felted items. She has a lot of really beautiful items, but I'm going to just share my favorites, like this
collar
:
If you aren't familiar with Nuno Felting, it is a Japanese technique that melds loose fiber (typically wool roving) onto
and into
a sheer fabric (usually silk).
Our wonderful felting teacher,
LeBrie Rich
, teaches a
Nuno Felting class
here at the store. There is one class coming up at the end of the month, that is unfortunately full, but there is another class coming next February, as well as an
Advanced
Nuno Felting workshop. I've seen this class while in session and it always looks like a lot of fun, but I never really thought about how far you could go past a scarf!
Vilte makes the possibilities seem endless, as she not only makes collars and scarves but uses Nuno felt for jewelry, rugs, and even custom-order wedding dresses. I really love this dress in particular:
Her
website
is pretty amazing. If you're into felt art, I definitely recommend checking it out.
Ok, now back to more knitting-related matters. While wandering downtown the other day, I saw this adorable sweater at Banana Republic: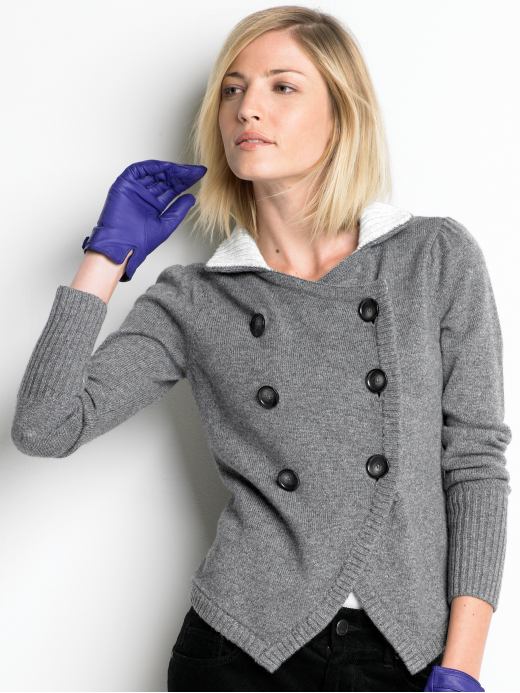 I really enjoy double-breasted cardigans, so, of course, I immediately started hunting for a good pattern as soon as I got home. So far, the best version of this I have come up is this pattern, the
Alex Sweater Jacket
from Debbie Bliss' Luxury Collection:
This beautiful garment is done in Debbie Bliss Luxury Tweed, a yarn I've used before and really like. While I like that this seems almost more blazer-y to me, it's not exactly what I'm looking for. In my search I also discovered the pattern for
Thea
, by Kim Hargreaves.
This cute sweater jacket is done in Rowan Kid Classic (I might substitute a doubled
Joseph Galler Prime Alpaca
, big surprise). I think I really want these two patterns melded together, as I prefer the collar on Thea, but the higher button placement on Alex.
Now, the holidays really are my favorite time of year. Holiday decorations, music, food, everything about it. I also have a fish thing. Seriously, if you ask my friends they will tell you I have a serious under-the-sea problem. And so, when I saw
these
little crocheted treasures at Anthropologie, I knew I would have to spend a day making a few Christmas tree ornaments: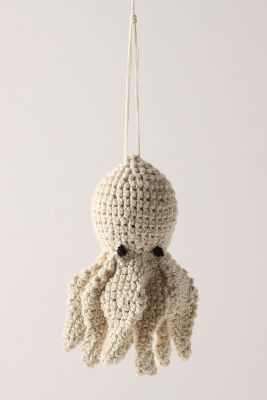 These will be pretty easy to figure out sans pattern, but (in case I'm feeling lazy) there are a few free patterns for similar creatures on
Ravelry
, like this one by Ana Paula Rimoli:
Ana
actually has quite a few fun little animal patterns (some free, some not) that are definitely worth checking out - if you're into knitting creatures.
The last thing I have to share today is simply for inspiration's sake. It was something I wasn't planning on blogging about originally; but, the more I think about it, I just can't help it. Because, really, how cool are these?
They are part of a series by Portland artist
Rachel Denny
, called "Domestic Trophies". She does all kinds of unbelievable pieces with fiber and other media, so it is
definitely
worth checking out her website.
With that, I leave you for another week. I wish everyone a good (and warm!) weekend. As always, check back next week for another edition of Fashionknitsta and, until then, stay chic, blogfans!
-Lindsay